The movie "Babli Bouncer" by Tamannaah Bhatia is now available on Disney Plus Hotstar. The audience greatly anticipated this movie because it had drama and women's empowerment. What differentiates this movie from other women's empowerment movies already popular in Bollywood? Read this Babli Bouncer Movie Review if you intend to watch this film.
Cast: Tamanna Bhatia, Saurabh Shukla, Supriya Shukla, Abhishek Bajaj, Sahil Vaid
Director: Madhur Bhandarkar
Babli Bouncer Movie Review: Story
The movie's story starts in the village of Fatehpur Beri. The bodybuilders' village is where this community is located. Everyone is seen either working or wrestling throughout the movie. Babli lives in Fatehpur Beri as well. She embodies the stereotypical Desi girl. She eats excessively and struggles with English; her burps are deadly.
She is a nice, entertaining village girl who has failed the tenth-grade exam five times. Her father is a bodybuilder trainer. Babli has a powerful body. She consumes a lot of roti and paratha. Even a large glass of lassi is quickly consumed. Babli does not give anything much thought. Believes that the marriage will eventually take place anyhow.
But then, one day, a young man from the city appears in their community. At first glance, Babli falls in love with him. She follows him to Delhi since she likes him so much. Babli picks up the skills necessary to work as a bouncer, and she persuades her parents to go to Delhi as she wants to get a job as a female bouncer in a bar. Her parents agree as she clears the interview. The movie's following chapter of Babli's life is not kept a secret, and the movie eventually gets very predictable.
Babli Bouncer Movie Trailer
Babli Bouncer Movie Review: Direction
Madhur Bhandarkar has performed admirably as a director. It appears you travel everywhere with Tamannaah's character until the very end. You won't even realize when you've become so devoted to this story because of the movie's storyline. It would not be incorrect to say that you will always remember this conceptual movie. At the same time, you will feel that this movie has left you with many questions once it has ended.
Regarding the movies of Madhur Bhandarkar, everything in his movies is flawless, which is one of his strengths. They're all great, whether the movie performance or dance scenes. This movie's flaw is that, after a while, it becomes excessively dramatic. The dialogue is so standard. You have likely heard numerous similar lines hundreds of times in Bollywood movies. The script required additional effort. The movie's conclusion is predictable but intriguing.
It was predominantly Babli's one-sided love story. Suddenly, the societal message was also communicated. Whether audiences should concentrate on love stories or social messages. In addition, the movie has several illogical scenes. The plot contains numerous ups and downs that fully entertain the audience. The first thirty minutes are devoted to the development of the plot. However, the movie concludes very quickly.

Babli Bouncer Movie Review: Acting
Tamannaah Bhatia is, without a doubt, a wonderful actor. But Babli bouncer is one of the most difficult people she has ever encountered. Tamannaah has performed exceptionally well as an actress. Conversely, Saurabh Shukla is as popular as usual this time around. His role in this movie is undeniably significant, but he appears quite constrained in many sequences. In addition to acting effectively, his body language reflected his age well.
Tamannaah has worked diligently on her character, as is evident. However, the emotional episodes in her stern exterior do not hold up. Abhishek Bajaj and Sahil Vaid have also done a wonderful job. Supriya Shukla performed admirably as a mother. Ashwini Kalsekar makes a respectable cameo appearance. In addition, the supporting cast's contributions are highlighted here. Other supporting performers, like Priyam Saha, Yamini Das, Sanand Verma, and Rajesh Khera, have also delivered strong performances. This movie is recommended for viewing the best performances of all its characters.

Music and Cinematography
Most of the movie's songs are of a romantic genre, which contributes to their appeal. Four songs contribute to the plot of the movie. Tanishk Bagchi and Karan Malhotra worked diligently on the movie's music, as is evident. Additionally, background music creates the ideal ambiance, especially in romantic scenarios.
The movie's cinematography is likewise excellent. Himman Dhamija, the movie's cinematographer, has worked magic with the camera and lighting in numerous moments. The outstanding usage of music and camerawork has provided the movie with an elegant execution.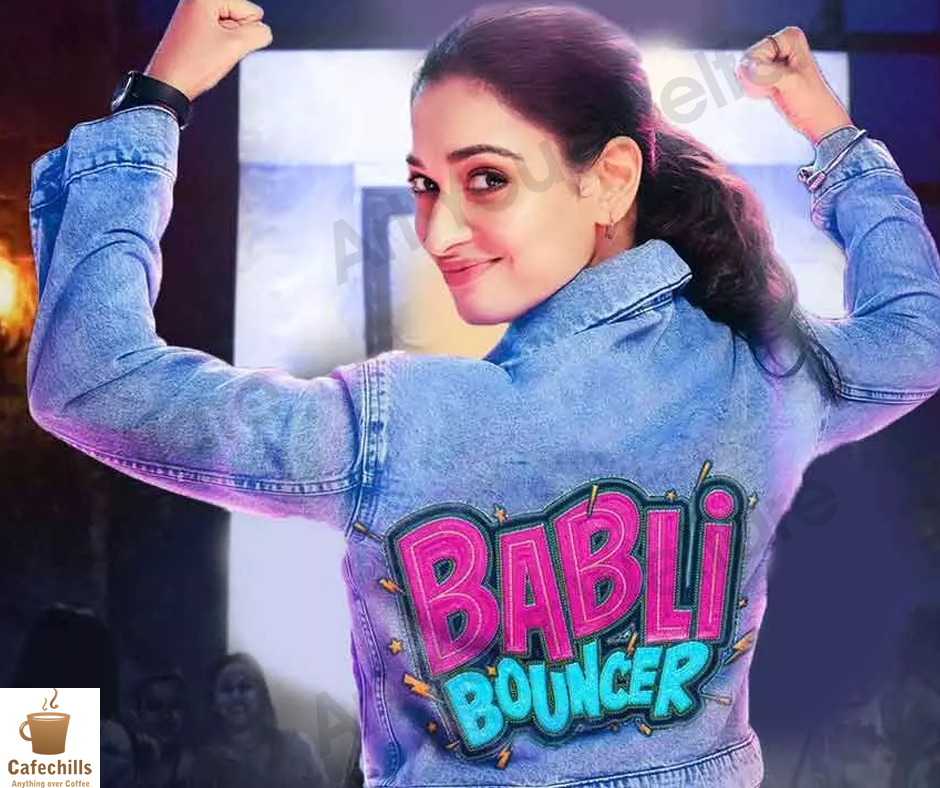 Final Verdict
The movie contains a solid script of dialogues and comebacks. Except for a few screenplay errors, the movie is worth viewing. This is a story of a country girl who becomes a lady bouncer; the director and the writers have supported each other exceptionally. Overall, Babli Bouncer is a one-time-only movie highlighting women's empowerment through its lead character. It would have been more engaging if this magnificent plot had been written with greater care.
A movie like Babli Bouncer is intended to be entertaining, with sufficient drama and romance to hold the audience's attention. The primary reason for this movie is to see Tamannaah Bhatia and Saurabh Shukla's outstanding performances. If you want to watch a drama movie that is clean, original, and well-acted, then "Babli Bouncer" may be the finest option.