The much-anticipated movie 'Dhamaka' has showed up. Kartik Aaryan, a Bollywood actor, has been in the headlines for a long time due to Dhamaka Movie. Fans have been anticipating this movie for an extended period of time. Kartik Aaryan stars in the movie as journalist Arjun Pathak. Mrunal Thakur, an actress, will also appear alongside him in the movie.
Cast: Kartik Aaryan, Mrunal Thakur, Amruta Subhash, Vikas Kumar
Director: Ram Madhvani
Dhamaka Movie Trailer
Dhamaka Movie Story
Dhamaka is the tale of Arjun Pathak, a news anchor. His life is not pleasant, but one day when he was on a live program, he received a call. The caller claims to be on the verge of detonating a bomb on Mumbai's Sea-Link. Arjun was unconcerned. The caller responds by delivering the initial blast. Obviously, the anchor sahib quickly begins to take him seriously.
The caller has only one minor requirement. He wants minister Jaidev Patil to apologize on television. Otherwise, he will continue to blow. Why is he attempting this? Is his demand met? What motivates one to take such a bold step? And is there any relationship between all of this and Arjun Pathak's past? All of this will become clear when you see the movie.
Dhamaka Movie Direction
Dhamaka is a fast-paced movie, with events occurring at a breakneck rate. Indeed, the movie is hasty in tying the part. Direct and to the point. There is an anchor who is suffering personal difficulties, but he is required to appear normal in front of the camera. Threatening calls also begin within minutes of the movie's commencement.
The image in the mind to be heading in the proper path at this point. Following that, the threatening call arrives, and instead of reporting the news, the channel's executives become involved in the business of selling the news. Numerous genuine scenes are depicted in the movie. The movie does an excellent job on this front. The shambles are located elsewhere.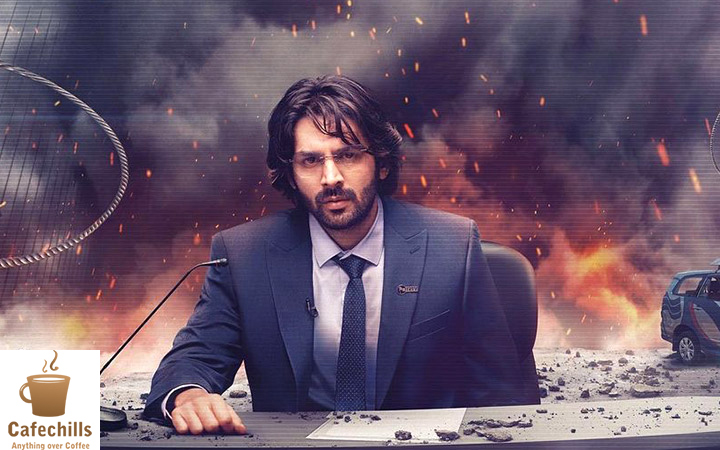 Dhamaka Movie Acting
Something is amiss with the execution of a decent storyline and the actors' performances. Nothing appears to be persuasive. Kartik Aaryan frequently crosses. They are incapable of appropriately delivering shock or fright. You're unable to connect with his performance. Additionally, his persona appears to be befuddled.
He is shown in the movie as a vindictive, ambitious, and nasty individual. He is a liar, a dishonest journalist, and a crooked official. The movie then wishes to convey the message that he is a kind man. Both of these things do not come out correctly. Everything appears to be artificial.
Mrinal Thakur is no exception. Although she receives very little screen time. However, she has been unable to perform any miracles with what she has. If there is anyone who appears to believe in the film, it is Amrita Subhash. She has done an excellent job portraying the persona of a ruthless news channel chief.
Final Verdict
The story of being dissatisfied with the system and taking the law into your own hands is not new to the silver screen. The explosive nature of the bomb burst is likewise not novel in this scenario. Dhamaka offers nothing more than that, but there are still enough of sympathetic situations that make this movie worth watching this weekend.