Amitabh Bachchan's family drama 'Goodbye' has been released in theatres. Cinema lovers have eagerly awaited a family drama since the theatres opened. In this movie, two different generations were seen trying to adjust to each other. This movie also discusses faith and science and emotions, comedy, and drama. If you plan to watch this movie, read this Goodbye Movie Review.
Cast: Amitabh Bachchan, Neena Gupta, Rashmika Mandanna, Sunil Grover, Shivin Narang, Ashish Vidyarthi, Pavail Gulati, Sahil Mehta, Elli Avram
Director: Vikas Bahl
Goodbye Movie Review: Story
The movie's story is of a Bhalla family living in Chandigarh with four children. After studies, the four children of Harish Bhalla and Gayatri move out of the house. The daughter is a lawyer and lives in Mumbai, the two sons work for a multinational company abroad, and the youngest son is a mountaineer. Being busy with their respective lives, not all children realize they are away from their families.
On the other hand, one day, suddenly, Gayatri dies of a heart attack. After this, when their father asks them to return home, the four children come home to perform the last rites of their mother. From here, the story begins. Will the children leave their old fathers alone and return to work, or will they become their support in old age? Will they be able to recognize the suffering of their old father? You will have to go to the cinema hall to learn the answers to all these questions.
Goodbye Movie Trailer
Writing and Direction
The story is simple, but it is projected very well. The movie was very well made and very entertaining. The movie does a great job of mixing humour with family drama. The dialogues, characters, and scenes are well written, which keeps the audience engaged most of the time. The movie is directed by Vikas Bahl. In addition to the film's director, Vikas Bahl is its writer too.
Through a simple family movie, the director has tried his best to show many issues on the screen. The movie explains the depth of relationships in a family. Apart from this, faith and science have also been talked about in the movie. Like why cotton is put in someone's nose after death, what is the reason for getting shaved? Is this some science, faith or superstition? The filmmakers have given you the answer to all these questions through this movie.
In today's era, the director has shown the growing distance between parents and children very well. Like in today's generation, children sometimes take their parents for granted. At the same time, when they are not with us, we always regret that we could have just talked to them in the past. Through a death tragedy, the director tries to make you feel that life is too short, don't do anything stupid that will leave you in tears later. Overall, the movie takes you on an emotional ride that will make you feel good.

Goodbye Movie Review: Acting
The casting of the movie is good. The filmmakers have cast more than one legendary actor. Let's start with Bollywood megastar Amitabh Bachchan who has always entertained the audience. Big B has done a great job. Be it his helplessness or anger as a father; he has breathed his life into the character. It is a visual treat to see Neena Gupta as Gayatri. Whenever she appears on the screen, she makes a strong presence.
At the same time, Rashmika Mandanna has done justice to the character of Tara. She made her Bollywood debut through this movie, so she has done an excellent job accordingly. TV actor Shivin Narang has also made his debut through this movie. Even though his screen time is significantly less, you will notice him. Sunil Grover has done full justice to the character of Pandit Ji. Elli Avram, Abhishek Khan and Ashish Vidyarthi played their characters very well.

Music and Cinematography
Everything seems convincing in terms of music. Amit Trivedi has given fantastic music. Jaikal Mahakal's song from the movie has already become everyone's favourite. There are three songs in the movie that line up with the story. The background music also creates the perfect atmosphere, especially in dramatic scenes.
Sudhakar Reddy's cinematography is excellent. The movie has a great sense of visual style where all the scenes are perfectly shot. The shots are well-composed, and the colours are beautiful. Overall, Goodbye is an impressive movie in terms of music and cinematography that will leave you smiling long after the credits roll.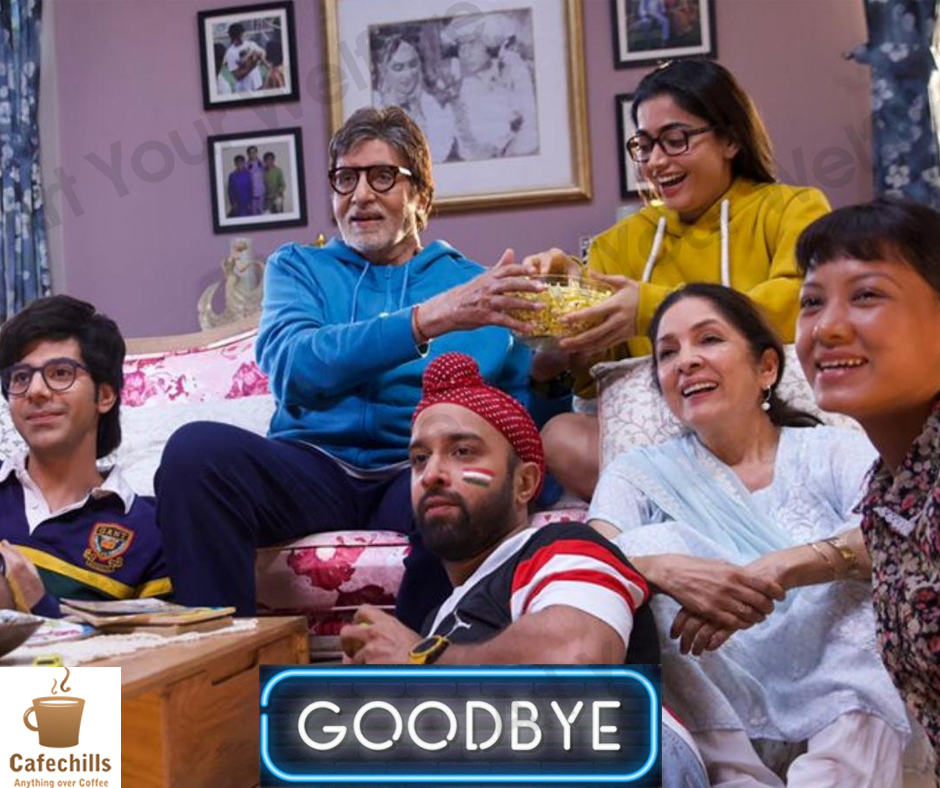 Final Verdict
Goodbye makes you laugh and weep and explains the depth of relationships in a family in a perfect way. Many such moments in the movie make you think that life is concise. After watching the movie, you will go home and hug your parents. There are many moments in the movie that will make you laugh and make your eyes moist.
This movie has everything that a family entertainer should have. Be it showing the relationship between a parent and a child or a family dispute, every emotion has been beautifully portrayed by the director. The movie's dialogues are also excellent, which is crucial in tying the audience. The humour and punchlines in the movie are well-written. Overall you can watch this movie with your family.
Goodbye is a dramatic and tragic death movie that will make you watch till the end. Although the focus was on entertainment rather than the movie's message, the movie still impacts the viewers. Amitabh Bachchan fans can check out this movie. Those who like to watch family dramas will not be disappointed either. If you are planning to watch a movie and are a huge fan of Amitabh Bachchan, this could be a good option for you this weekend.