Gunjan Saxena – The Kargil Girl is a recently released Hindi biopic of Flight Lieutenant Gunjan Saxena who was an Indian Airforce Pilot. She joined the Indian Airforce in 1994 and is the first women officer to fly in a combat zone. She rescued a number of infantry soldiers as her job was to pick up dead and injured soldiers. She talked about her work in the war front and said, "One of our main roles (in the war) was casualty evacuation. I think it is the ultimate feeling that you can experience as a helicopter pilot. It is a very satisfying feeling when you save a life because that's what you are there for."
She is celebrated as the only women officer involved in the Kargil war. She was awarded Shaurya Chakra for her bravery.
Gunjan Saxena – The Kargil Girl revolves around Gunjan and her father. The movie talks about how she along with her father fought against the odds of society. The movie tried to portray her life not just as a Flight Lieutenant but as a girl who fought hard to be an Airforce Pilot.
Cast – Janhvi Kapoor, Pankaj Tripathi, Angad Bedi, Manav Vij, Maneesh Verma, Viineet Kumar, Ayesha Raza Mishra, and Riva Arora.
Story:-
Mujhe Nahi Pata ki Duniya kitni mushkil hai aurton ke liye! Par uska hal pinjre mei qaid ho Jaana nahi hai..pinjra tod ke udh Jaana hai". And this is what 'Pankaj Tripathi' father says to his daughter, 'Jhanvi Kapoor.'
 This film is about the journey of Gunjan Saxena to become India's first female combat pilot in the Kargil War, about how she violated the conventional norms where, if granted at all, a girl was typically supposed to marry after education (based on the age of the 80s and 90s). But this movie, to me, belongs to her father more than to her. In our culture, the status of women is appropriately summarized as "Tu wahi karne ja Rahi hai jo yeh Duniya har Ek ladki se ummeed karti hai.. ki Apne Sapnon ko Chhodh Chaadhke settle ho jaaye". The Story is detailed, layered, and treated in a way that is engaging and thrilling. With just 112 minutes long it packs in a lot & maintains a fine balance throughout the film, (neither too slow nor too fast).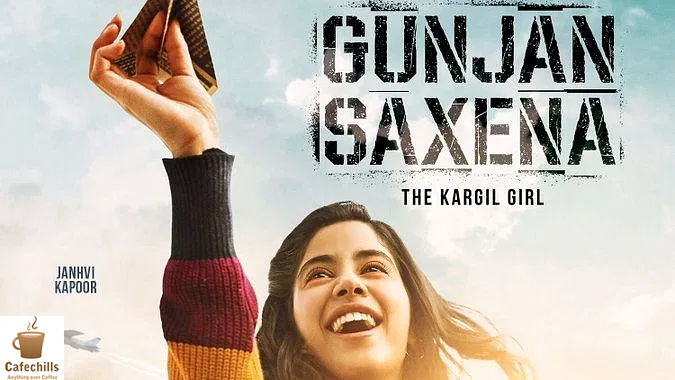 Once again, Pankaj Tripathi did a fabulous job (goes without saying) and this one can be counted in the top 3 roles of his career. A simple army person, the way he brings up his daughter, the values that he gives her, the way he lets her choose her career path and supports & encourages her at each & every step is done with so much ease.
It won't be an exaggeration to say that she was what she was because of her father. When Gunjan's elder brother told her in childhood that "ladkiyan pilot nahi banti", Tripathi's statement that "Kaun badtameez tumhe yeh sikha raha hai? Plane chahe ladka udaye ya ladki, usay pilot hi bolte hain" is a testament that parents need to teach things to their sons to change the overall conservative mentality of the society towards women.
When she was thinking to resign as an Airforce pilot and settle down, her father says "Humari bachchi apna career chhodhke paranthe banana chahti hai.. chal paranthe banate hain". "Teri shaadi ka khayal, Sirf Teri nahi hum dono ki haar hai".
Instead of asking her to get married as if it was her absolute destiny, I wish every parent could teach their daughter to pursue her dreams.
Characters –
Manav Vij, Vineet Singh, and Angad Bedi did equally well in their parts, and I liked the grey shade played by Vineet.
However, the only disappointment I had was with Jhanvi. At a few places, she couldn't live up to the situation & her character. Her body language was of a Bollywood heroine and I wish she could have worked more on her posture and modulated her voice a little.
And last but not the least, the scene-stealer who owns the best moments of this film is undoubtedly the most outstanding actor in the film, Pankaj Tripathi. What an actor!
The screenplay is the USP of the film, the direction is Very Good, Cinematography is decent, dialogues are hard-hitting, editing is sharp and meaningful, And lastly the presence of music/songs conveys the moods very nicely.
There's so much you would love about this movie, the story itself to begin with, but one of the things I was the most drawn towards throughout the movie was, the beautiful depiction of the father-daughter relationship. How her father neither gives up nor lets her give up on her dreams, stands with her despite all odds, and encourages her flights of fancy even though her mother and brother are skeptical. Her journey was no cakewalk. Despite her steady willpower and dedication towards her dream, she falls prey to the animosity of her colleagues and high-rank officers and loses confidence, doubts her decision of joining the IAF, and talks about settling in but not once does her father fail to pave the way for her. Unlike what other parents would do, he chooses not to lambaste at her, instead lets her see the reality herself by taking her to the kitchen, handing over a rolling pin, and asking her to make Paranthas. While he finds no shame and is fully equipped to do that himself, he talks his daughter out of the thought of abandoning her dreams through a soul-stirring monologue.
Overall, Better late than never, India deserved to see the story of the first female pilot in combat. It's a clean Family Entertainer and much more than just a biopic.
Overall it's a finely made, well directed and acted film and you shouldn't miss it for anything. And in the last, Big salute to real life #GunjanSaxena and her courageous story to bring change. All in all, this is an inspiring real-life story while living her dream.
P.S. Comments criticizing accounts of promoting Nepotism (as this is a Jhanvi movie) are strictly prohibited. Apart from her, there are many self-made stars here who do need their due recognition, please.