A new movie about the empowerment of women has been released in theatres. This social comedy-drama can appeal to those who prefer dramatic movies. It would be dishonest to call this movie either good or bad. This is an incredible movie about a significant problem. Audiences greatly anticipated this movie since it contains comedy and middle-class drama. If you intend to watch the movie, you must read this Jahaan Chaar Yaar Movie Review.
Casts: Swara Bhasker, Pooja Chopra, Meher Vij, Shikha Talsania, Girish Kulkarni
Director: Kamal Pandey
Jahaan Chaar Yaar Movie Review: Story
Jahaan Chaar Yaar is a movie focusing on women's empowerment. It has shown all the challenges homemakers face in middle-class families, from cooking and housekeeping to raising children. Their personal lives and relationship have become devoid of flavor. All the problems of women in miserable marriages and unfaithful husbands have been illustrated.
This is the story of four middle-class housewives who decided to leave their jobs. A few days later, they began living life on their terms. They went on vacation to experience life to the fullest. They landed in Goa and immediately began to have fun and relax. Unfortunately, their fun was ruined when they were entangled in a police investigation. During their trip, a murder occurred, and these four women were the major suspects.
Jahaan Chaar Yaar Movie Trailer
Jahaan Chaar Yaar Movie Review: Direction
This movie was directed exceptionally well. The director of the movie is Kamal Pandey. The beginning of the movie is a touch slow, but it picks up speed after the intermission. The script of the movie is centred on women's empowerment, thus the plot is a mixture of difficulties and pleasures. Only a few sequences have any impact, while the rest are merely attempts to make the women appear needlessly vulnerable. However, while the story is fantastic, the second half is merely passable. There are few errors in direction, but the social drama method should have been improved.
Jahaan Chaar Yaar is filled with both humor and solemnity. The audience anticipates a stronger conclusion from the film, but even there, they are dissatisfied. Predicting the story after the intermission is not difficult, yet your intrigue about what will happen next persists. There are no instances of domestic violence in this film. However, numerous sections in the script depict the existence of homemakers imprisoned at home. Overall, Kamal Pandey has only accomplished two positive actions. First, the movie's concept is original and intriguing, and second, most of its moments are expertly directed.

Jahaan Chaar Yaar Movie Review: Acting
Regarding the actors, it is undeniable that Girish Kulkarni has once again delivered an outstanding performance in this movie. He has illustrated the life of a husband from the middle class. Swara Bhasker appears natural in the role of housewife, and she performed well in the situations she was given. Pooja Chopra has portrayed the hardship of a middle-class wife effectively. On-screen, she is quite captivating due to his youthful and adorable appearance. Meher Vij and Shikha Talsania performed admirably in their new movie.
Girish Kulkarni, who possesses outstanding acting abilities, is terrific in his role. He has demonstrated dramatic expressions that suit the character admirably. Swara Bhasker, Pooja Chopra, Meher Vij, and Shikha Talsania played the primary parts in the movie.  The movie's supporting cast is average. In general, everyone behaves normally. Everyone has performed their roles quite well.
There is a great deal of conversation on social media over the cast of this movie. In this movie, Jahaan Chaar Yaar, every element, from the homemakers to the contemporary women, has been meticulously crafted. In addition, the return of Girish Kulkarni to the big screen after a lengthy absence is a gift for his fans.

Music and Cinematography
The songs in the movie are completely pertinent to the plot and remain captivating. The background music of Jahaan Chaar Yaar creates the ideal ambiance, especially during the comedic sections. On the other side, the movie's soundtrack is above average. The movie features a total of six songs. Mika Singh, Anand Raj Anand, Ritu Pathak, Yasser Desai, and Deedar Kaur composed the songs' music.
The movie's cinematography is excellent. As a cinematographer, Sethu Sriram has created wonders in certain instances. He took wide photos in a manner that made the scenes look amazing. The outstanding usage of music and camerawork has provided the movie with a really elegant execution. The movie's dialogues also contribute to a deeper understanding of life's realities.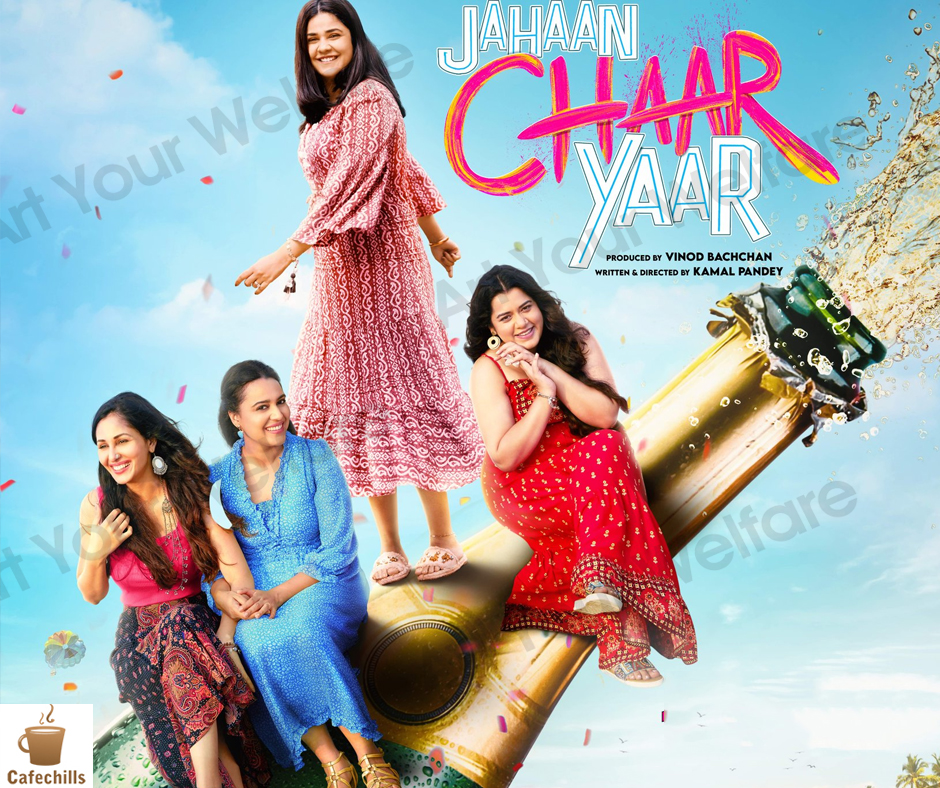 Final Verdict
A movie like "Jahaan Chaar Yaar" is designed for amusement since its drama and humor are sufficient to keep the audience interested. The movie's plot is not particularly original, but it still fascinates the audience from the beginning and maintains their interest until the end. Despite a few script flaws, the movie is nevertheless worth watching. There are several scenes in which it is unnecessary to check the time.
Overall, Jahaan Chaar Yaar is a movie that supports the emancipation of women that can only be viewed once due to everyone's outstanding performance. If stronger writing and competent directing had accompanied this magnificent plot, the movie would have been more engaging. Upon leaving the theatre after viewing this movie, you will feel a sense of pleasure at having seen a good movie. If Girish Kulkarni is someone you admire, this could be a fantastic choice.