Cast: Radhika Madan, Mohit Raina, Daina Penty and Sunny Kaushal
Director: Kunal Deshmukh
There was a time when the audience enjoyed the cute moment between the hero-heroine and the makers who earned an extensive collection at the box office. But over time, the audience watching love stories went down, and the industry started trying its hands in new genres. At such a time, Radhika Madan and Sunny Kaushal have brought a movie named 'Shiddat,' where the audience will get to see the love story of today's era.
Shiddat Movie Story
The story of the movie 'Shiddat' begins with Gautham and Ira, who are pretty different. This is what fascinates them about each other, and they fall in love. Their love story is so perfect that Gautam told her that both are made for each other even on their wedding day.
Gautam's words act as a tonic for Jaggi, who wants to enjoy life. Jaggi is a hockey player. One day in the swimming camp, he sees a girl named Karthika. At first, he thought it was fun. He took her picture without her permission and posted it on social media without her consent. He then started stalking her. After all these antics, he felt that he loved Karthika. To fulfill this one-sided love, he literally did his best.
After some time, Jaggi is caught trying to enter the UK unofficially. He is handed over to Gautam, who is India's diplomat in Europe. Jaggi tells Gautam everything, and he wants to meet Karthika, whom he has fallen in love with. Karthika, for whom Jaggi is crossing the borders of countries, is about to get married. Will Kartika and Jaggi ever meet?  This forms the crux of this movie.
Shiddat Movie Acting
Sunny Kaushal has played his character well, while Radhika Madan has done a great job in the character of Karthika. The pair of Mohit and Diana look beautiful on screen.
Sunny Kaushal's work in the character of a lively, passionate, and crazy lover is commendable. He quickly brings both funny and serious expressions to his face. Radhika has shown a glimpse of the domineering girl of today's era, and she is impressive in emotional scenes.
Mohit Raina retains his serious character till the end. Mohit Raina is consistently doing good projects, for which he should be praised. Even in 'Shiddat,' his performance is impressive. There is nothing special on Diana's part, but she looks beautiful. Diana's screen space is the least in this movie, and in terms of performance, she has done the most convincing scenes in the movie.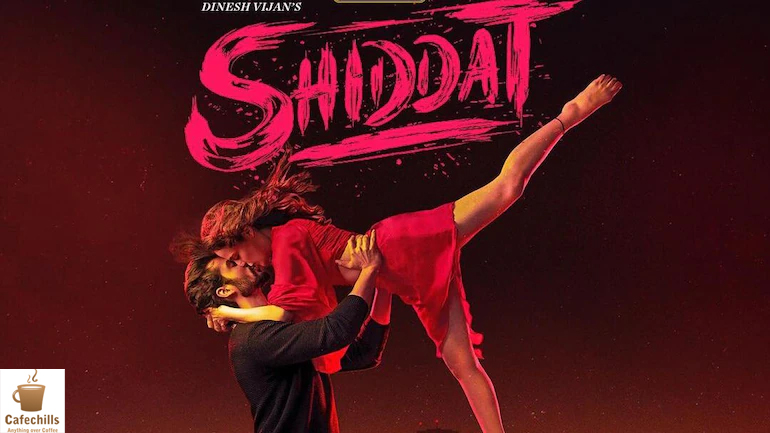 Shiddat Movie Writing and Direction
'Shiddat' could have been a progressive movie, but the makers have made it mediocre by not taking a practical route. Think for yourself, who will decide to swim 560 KM and walk the path? Teasing a girl has been glorified in the movie 'Shiddat,' which is not justified in today's time. Such scenes used to be forcefully inserted in old love stories, but they look cumbersome in today's love stories. Moreover, it fails to give the feeling of love.
The scenes in France, crossing the English Channel Sea to find love and going to London sitting in the space between the wheels of an airplane look very impractical in the present scenario. The reason for Jaggi not getting a London visa is also not apparent, nor that issue is outlined adequately.
Final Verdict
'Shiddat' is a shallow love story, which seems to be talking about something different. It is talking about such love, which no one has done, or no one has seen. There is a romanticization of fake and a lot of illogic. Actors are compelled to act by bad story writing. Love is seen in the film Shiddat, but Radhika-Sunny together have not been able to create enthusiasm in the hearts of the audience for that love.
But still, there are still beautiful songs and some intense romantic scenes which are not at all absurd. Cinematography is on the next level, and some beautiful shots are taken while filming the movie abroad.