Netflix has launched the movie Darlings, starring Alia Bhatt. This is a social comedy-drama, and individuals who prefer dramatic movies might enjoy it. It would be dishonest to describe the movie as either good or poor. This is an incredible movie about an important subject. Read this Darlings Movie Review to know more about the Darlings Movie Cast and Darlings Story.
Cast: Alia Bhatt, Vijay Varma, Roshan Mathew, Shefali Shah, Rajesh Sharma
Director: Jasmeet K Reen
Darlings Story
The plot of the movie centers around a wife named Badru. Hamza, her husband, is an alcoholic and a domestic abuser. During the night, he brutally assaults her and does not allow her to eat. In the morning, he woos her in such a way that she melts and forgives her husband. She hugs and loves her spouse, yet he continues to abuse her at night. The wife is abused and forced to serve the husband.
Her mother attempts to advise Badru, but Badru provides Hamza with opportunity after opportunity. Suddenly, the tides tend to change. Badru, Zulfi, and Badru's mother, who all reside in the chawl, make some plans. Their strategy can make them go to the police station. Does this strategy succeed or fail, or does it change? The beating here is no longer unilateral; it is now bilateral. This forms the crux of the movie.

Writing and Direction
The direction of the movie is its greatest strength provided by Jasmeet K Reen. She has enhanced a linear narrative through effective treatment. She crafts small momentsand the story is filled with the harshness of its characters. The movie begins a rebellion against patriarchy, but it does not proclaim this which is the movie's specialization. However, while the story is intriguing, the second part becomes somewhat predictable.
There are numerous instances of domestic violence in this movie. However, there are no violent scenes captured directly on camera. The story contains few errors, however the social drama style may have been improved. In addition, a number of dialogues in the movie seem absolutely illogical. The script has numerous sequences depicting the lives of wives who are victims of domestic violence. The husband's personality has been imbued with a sadistic sense of humor who relishes inflicting pain on others.
The best aspect of the movie is that, in order to depict the pain of women, it does not portray all males as villains. Only those who are villains are shown as such. This movie speaks out against patriarchy, but does not portray men as devils. There are few irritating problems in the movie. It would be dishonest to call this movie either good or bad. This is an important movie about a significant problem.
Darlings Movie Cast
Alia Bhatt has once again demonstrated in the part of Badru that she is not just a popular actor but also a star. Her sobbing, yelling, and innocence all appear genuine. Shefali Shah has not only played the part of Badru's mother, she has also lived in it. She effectively conveys the frustration of the character. As Zulfi, Roshan Mathew has not performed a dramatic role, which is a good thing.
Vijay Varma gives this movie its vitality. He has absorbed Hamza's viciousness. After some time, we began to despise the character, which demonstrates his artistic success. Even in the minor role of a butcher, Rajesh Sharma impresses. Alia Bhatt has worked diligently on her acting role, which is evident on screen, but her stern expressions in several violent sequences imply she needs additional training.
This movie starring Alia Bhatt and Vijay Varma is the subject of extensive social media controversy. In this Netflix movie, the details, ranging from romance to violence, are expertly woven together. Fans will be delighted to watch Vijay Varma and Alia Bhatt share the screen for the first time in this movie.

Music and Cinematography
The movie's soundtrack album, composed by Vishal Bhardwaj and Mellow D, is not at all bad. In numerous tragic scenarios, it provides a sense of simplicity. On the other side, the melody of the songs, composed by Arijit Singh and Chirantan Bhatt, is slightly superior. The movie contains only three romantic and sentimental songs.
The cinematography is excellent. Using a mix of camera and light, Anil Mehta has created marvels in a few scenarios. Additionally, the chawl shoots are great. The violence sequences are realistically and rapidly edited. These domestic violence scenarios give viewers a chill. Without the editor, no matter how skillfully the action shots are captured, they cannot come to life. Therefore, the editor of this movie has endeavored to bring the violent sequences to life.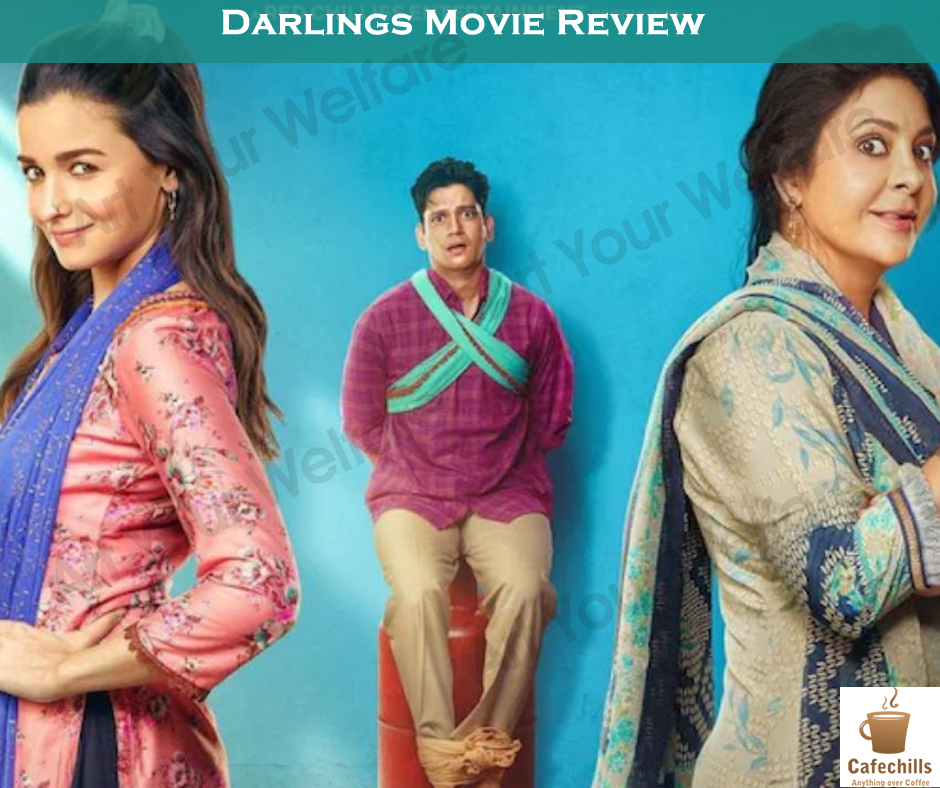 Final Verdict
Movies imbued with the spirit of patriarchy have not always raised public consciousness, but they have instilled morals. Consequently, these movies have frequently become hits on OTT platforms. Darlings may not be a fantastic movie for everyone, but it deserves credit for highlighting an important topic. In addition, this movie encourages every man and woman to appreciate one another throughout their marriage and it encourages every woman to stand up for herself in the face of domestic abuse and deprivation in her marital life.
A movie like Darlings is a social drama in which the acting and plot are engaging enough to maintain the audience's attention. Alia Bhatt and Vijay Varma's dazzling on-screen chemistry is the most compelling reason to watch this movie. This movie is a must for social drama fans.