Between South movies and their remakes, Anurag Kashyap has produced a Hindi version of the Spanish movie Miraj. This suspense thriller movie deviates from the prevalent genre in Hindi movie. It engages your intellect, but can this experimental movie hold your attention till the end? The same topic will be discussed in today's Dobaaraa Movie Review.
Cast: Taapsee Pannu, Rahul Bhat, Pavail Gulati, Saswata Chatterjee
Director: Anurag Kashyap
Dobaaraa Movie Story
The story takes place in Hinjewadi, Pune, in 1996. Aney, a 12-year-old child, enjoys watching his father's cyclone prediction video. During the same rainy night, he witnesses his neighbour Raja Ghosh committing a murder. While Raja pursues him, Aney is struck and killed by a fire department vehicle while running. The storyline then advances to the year 2021. Antara Awasthi moves to a new residence with her husband Vikas and their six-year-old kid. Antara Awasthi is a nurse at a hospital, whereas her husband is a hotel employee. She discovers that Aney once resided in this residence and she also learns about Aney's past.
She views old recordings of Aney by herself on a stormy night by attaching the old camera to the television. It would have been 2 o'clock at the time. She watches Aney on television, and they started talking and then, Antara abruptly reaches another world. Everyone there refers to her as Doctor Vashisht. She does not get why everyone refers to her as a doctor. She searches for her child. Antara eventually discovers that this planet is unique. Her past has been altered; thus, her future has also been altered. There are numerous mysteries in the universe. How does Antara connect the two worlds' ends? This forms the crux of the movie.

Dobaaraa Movie Review: Direction
Anurag Kashyap has performed admirably as a director. It appears that you are travelling everywhere with Taapsee Pannu's character until the very conclusion of the movie. The plot of the movie will lead you on a journey that you won't even realise when you've been so attached to it. It would not be incorrect to state that you will always remember the movie.
Director Anurag Kashyap is known for making movies out of the league. The concept of Dobaaraa is good, but the story is quite complicated. Many questions also remain unanswered. In the beginning, it seems that the story is running parallel, then it is understood that it is a story of a different world. In such a situation, viewers have to put a lot of mind to understand the story.
When Antara ultimately returns to her world, she regains consciousness in the swimming pool, whereas she disappears from her room at the beginning of the episode. There, the audience will be unable of experiencing the connection. In contrast, this scene was crucial in connecting the two worlds.

Dobaaraa Movie Review: Acting
In the role of Antara, who is locked in a world of unexplained riddles, Taapsee Pannu has the opportunity to display a wide range of acting skills. From the character of a perplexed mother to that of a confused individual, she has accurately portrayed the events that occur in her head as she journeys through time to find her daughter.
Pavail Gulati's portrayal of a tolerant police officer is believable. However, there was a great deal of potential for his persona to be intriguing. The acting of Rahul Bhatt as the character Vikas is remembered. His character has become interesting in both the worlds. Shashwat Chatterjee's acting is able to bind. Pankaj Rajput has also performed admirably as the character Aney.
All of the actors, including Taapsee, Pavail, and Shashwat, execute the sequence perfectly. They maintain their integrity. There is nothing added above or below it. While performing their second part, these actors maintain no ties to their former characters. You cannot recall ever seeing this character on screen before. These actors comprehend their character's circumstances and respond accordingly.
Music and Cinematography
Gaurav Chatterji worked diligently on the movie's music, which is evident. There are just two songs, yet both are crucial to the movie's plot. Armaan Malik and Fotty Seven perform these tunes. These songs may have been added to improve audience interest in the movie. Total Dobaaraa Movie Budget is around Rs 30 crores (Source).
The outstanding usage of music and camerawork has provided the movie with a really elegant execution. Sylvester Fonsec, as a cinematographer, has created marvels in certain sequences by combining the camera with expansive sets. Aarti Bajaj, the movie's editor, deserves praise for the movie's exceptional editing, which gives the movie a documentary and biopic-like atmosphere.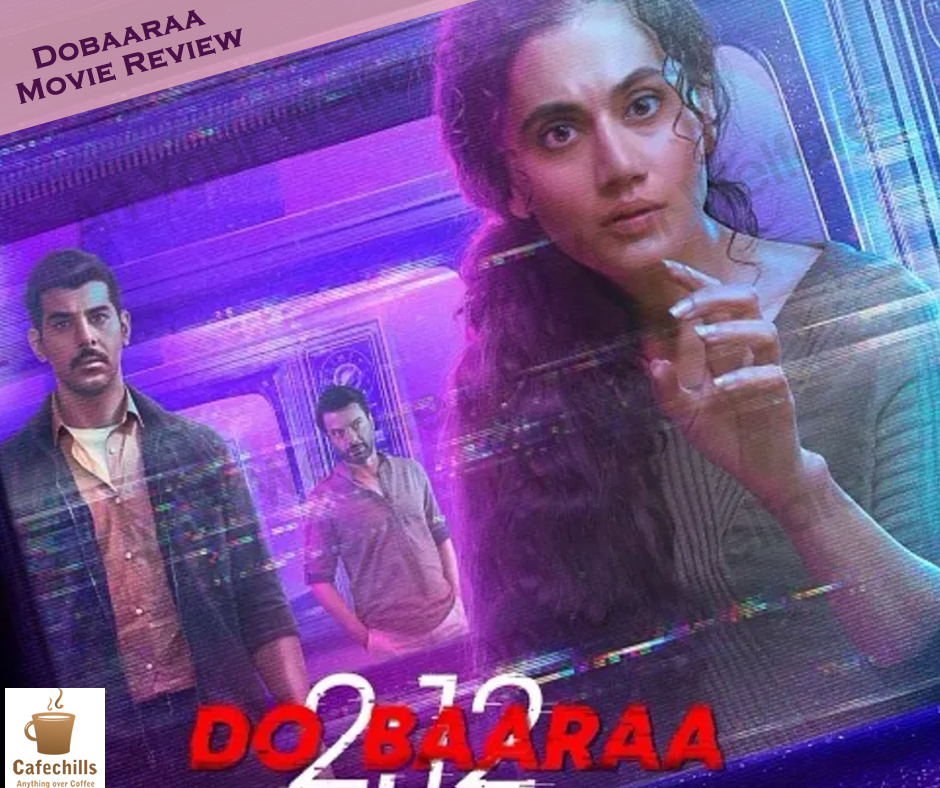 Final Verdict
The movie's tale is incredibly compelling, which captivates the audience from the beginning and keeps them engaged until the finish. The audience is interested in both time travel and the murder mystery presented in the movie. Taapsee Pannu's performance in the movie has once again captivated the hearts of the public. In addition, director Anurag Kashyap has performed admirably. If screenwriter Nihit Bhave had spent a little more time on the writing, the movie would have turned out better.
Time travel has been the subject of few Bollywood movies. If someone attempts to describe the plot of Dobaara in words, he will be incapable of doing so. To get this experience, you must watch the movie in theatres. The primary reason to see this movie is to see Taapsee Pannu's outstanding performance once again. Both the movie's songs and its background music are outstanding. If you want to watch a clean, original, and well-acted Drama/Mystery movie, 'Dobaaraa' may be the finest option.