Looop Lapeta Movie is a Hindi thriller film based on the German movie 'Run Lola Run'. Looop Lapeta is unquestionably an exceptional movie. It incorporates lots of science fiction, mythology, romance, and history.
Cast: Taapsee Pannu, Tahir Raj Bhasin, Dibyendu Bhattacharya, Shreya Dhanwantary, Manik Papneja, Raghav Raj Kakker, Rajendra Chawla, Sameer Kevin Roy
Director: Aakash Bhatia
Looop Lapeta Release Date: February 4, 2022
Looop Lapeta Story
Looop Lapeta is the story of a young woman who battles against the flow of time in order to save her sweetheart. Savi (Taapsee Pannu) is a Goan athlete. When she meets Satya (Tahir Raj Bhasin), the two immediately fall in love and move in together.
Satya wishes to amass wealth by deception. He begins working for Victor (Dibyendu Bhattacharya), a restaurant owner and criminal. Victor requested that he deliver narcotics to a man and bring him a sum of money. He will receive Rs 50 lakhs in exchange.
Satya was in charge of delivering the parcel and collecting the money which he did. Upon his return, he begins smoking a banned substance with a fellow traveler. At the bus stop, the cops board the bus. They attempt to apprehend Satya after discovering he is smoking a prohibited drug. After evading the cops, he realized he had left the bag with the money behind. As a result, he contacts Savi and requests her assistance. What occurs next is only revealed after seeing the movie.
Looop Lapeta Trailer
Direction
Akash Bhatia directs Looop Lapeta, a thriller movie. It is a Goa-set movie based on the time loop idea and a wacky Hindi remake of the German movie 'Run Lola Run' from the 1990s. In India, very few movies of this type have been created.
Technically, Akash Bhatia's directing is pretty strong. He made good use of music and camerawork and executed the movie in a very attractive manner. The cinematography of Yash Khanna is exquisite and one-of-a-kind. The public has rarely witnessed this type of camera work.
The music and editing teams also contribute significantly to the movie's psychedelic, twisting, and humorous tone. The movie is 135 minutes lengthy but never seems dull or dragging for a single second. One enjoys seeing the movie submerge itself, and the anticipation of what will come next is thrilling.
Acting
Taapsee Pannu and Tahir Raj Bhasin feature in the movie's major roles. When it comes to acting, Taapsee Pannu, as usual, dazzles with her performances. The writing may be awful, but she does her best to overcome it, which makes the movie worthwhile to see. Each of Taapsee's movies holds the promise of being unique, which is a significant accomplishment in and of itself.
Tahir Raj Bhasin is competent but does not leave an indelible mark in some moments. Dibyendu Bhattacharya is ideal for his part. Shreya Dhanwantri performs an excellent job, particularly with her monologues. KC Shankar and Sameer Kevin Roy deliver a good performance. Rajendra Chawla is a little better; he makes a concerted effort to be amusing. Raghav Raj Kakkar is perhaps most known for his portrayal of 'Karamchand' in the online series Scam 1992.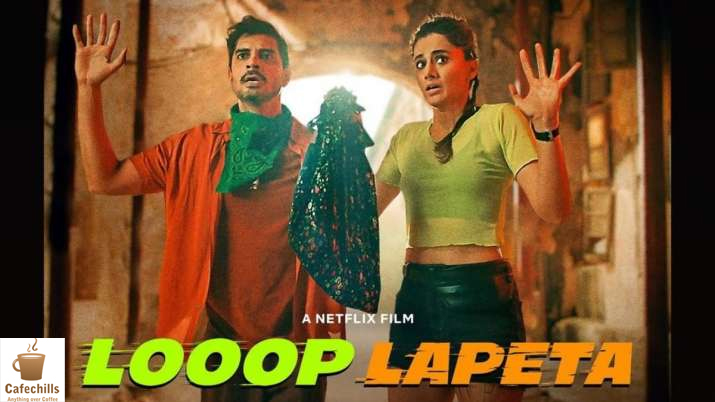 Final Verdict
While the concept originated with the German movie 'Run Lola Run,' the characters have been given a new identity and a new backstory. The masterstroke is the incorporation of Hindu mythology into the Looop Lapeta story, specifically Savitri and Satyavan. How Savitri deceived Yamraj in order to spare her husband Satyavan's life. This invention has reintroduced Looop Lapeta to the Indian market.
Looop Lapeta is worth viewing for its unusual premise, stylish narrative, and Taapsee Pannu's excellent performance. However, due to script faults and a lackluster supporting cast, the movie comes off as ordinary one.