A blockbuster Rashtra Kavach Om Movie has been released in theatres. This is an action movie, and those who watch action movies frequently may enjoy it. Read on further to know more about Rashtra Kavach Om Movie Review and Rashtra Kavach Om Story.
Rashtra Kavach Om Star Cast: Aditya Roy Kapur, Sanjana Sanghi, Jackie Shroff, Ashutosh Rana, Prakash Raj
Rashtra Kavach Om Director: Kapil Verma
Rashtra Kavach Om Story
The plot of the movie centres on Om Rathore and his father, Dev Rathore. Dev Rathore is a nuclear physicist who aims to create a national shield that would protect the country from any nuclear attack, but country traitors kidnap him before he can do so. As a result, Dev Rathore is suspected of being a traitor, and his son Om Rathore arrives to prove his innocence. The movie will reveal whether Om will be able to locate his father and prove his innocence or whether his father is, in fact, a traitor.
The movie does not conclude here. Later, Om Rathore gets enlisted in the army and dispatched on a highly crucial mission. The movie develops, and at the movie's climax, it is revealed that the traitor is, in fact, a traitor. This movie's storyline will be somewhat confusing, but the scenes happen so quickly that you won't have time to think twice. The movie contains numerous intense action moments. It's enjoyable to observe. However, these sequences do not advance the plot. The opening part of the movie is relatively leisurely for an action movie. The pace quickens throughout the second half of the movie.
Rashtra Kavach Om Budget
Rashtra Kavach Om was produced with a budget of Rs. 35 Crores. (Source)
Rashtra Kavach Om Movie Review: Writing and Direction
The strength of the movie is its energy. Almost every scene in this movie has a great deal of energy. But director Kapil Verma has been unable to harness it appropriately. The movie's script appears to be lacking. The story is confusing; the storytelling method should have been improved. In addition, the movie has several implausible scenes.
This movie's premise is so convoluted that a new twist appears every time the viewer tries to decipher it. Similarly, director Kapil Verma failed to deliver the script adequately. As a result of his emphasis on depicting Om Rathore as a superhero rather than a normal person, numerous situations in the movie are hard to accept. Whether Om is fighting with ten people by himself or if he catches the helicopter's cable and destroys it is unknown. There is an abundance of action and fight scenes in the movie, although certain moments have grown quite faded.
Patriotic sentiments have become a standard norm in Movies. The message is embedded inside the action, preventing the audience from becoming bored. A well-known actor plays the lead role, and the supporting cast consists of remarkable actors. In the first half of the movie, most of the fast-paced acts appear to be successful, so many entertaining events occur in the story's first half. The plot must then be linked together in the second half for a conclusion. In the end, the messages are just two to three minutes long. The majority of the movie consists of action and nationalistic dramas.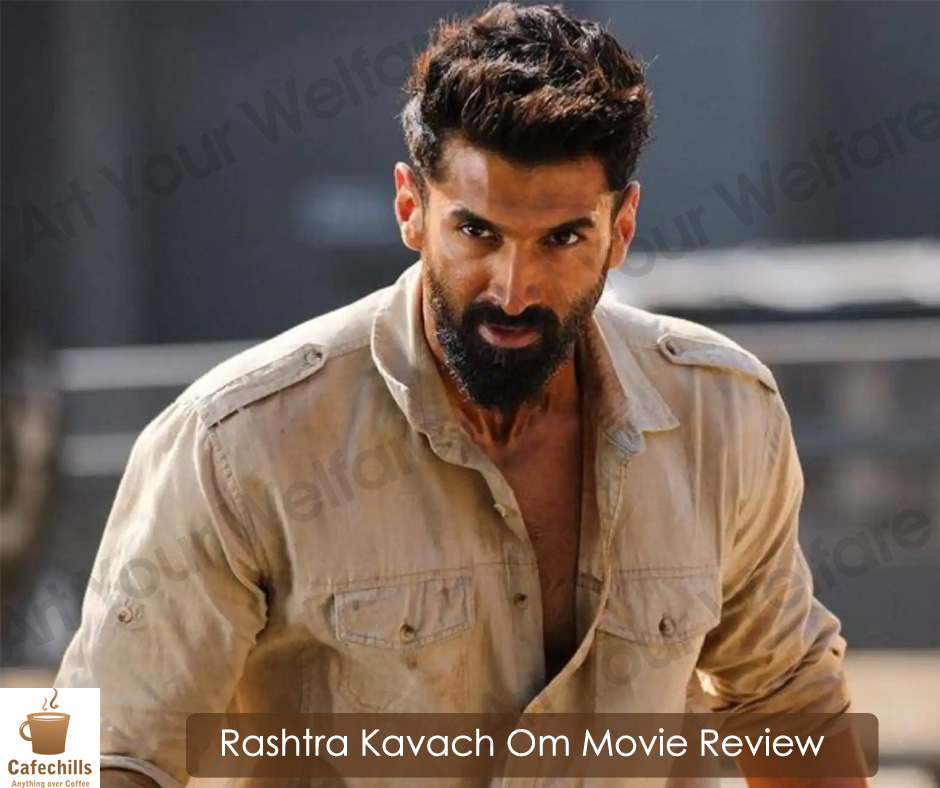 Music and Cinematography
Amandeep Singh Jolly composed the movie's background music, which is extremely loud. In numerous action moments, it causes a headache. On the other side, Arko and Chirantan Bhatt do a better job with the melody of the songs. There are just four songs in the movie, three of which are romantic and one of which is a dance.
The cinematography is excellent. Vineet Malhotra has created marvels in a few scenarios using a mix of camera and light. Likewise, the mountain view is stunning. The editing of action sequences is fluid and rapid. However, no matter how skillfully the action shots are captured without the editor, they cannot come to life. Therefore, Kamlesh, the movie's editor, has done his utmost to infuse the action with life.
Rashtra Kavach Om Star Cast: Acting
Aditya Roy Kapur's performance as Om is average though he has worked hard on his body. His action sequences are excellent. Sanjana appears as confused as Kavya; similar to Aditya, she has also excelled in acting. Vicky Arora performed admirably in the role of Rohit.
Jackie Shroff, a renowned actor, did not fail to leave his imprint. However, he may have performed better than the nuclear scientist Dev Rathore. Ashutosh Rana's performance as Jai Rathore is the finest in the movie. The dialogues that he speaks in pure Hindi sound excellent. Prakash Raj has also performed admirably as Ashutosh Rana's supervisor. However, other lesser characters have all displayed average behaviour.
Aditya has worked diligently on his physique, which is evident, but his emotionless expressions in numerous emotional sequences indicate that he needs to improve his acting skills. Similarly, Sanjana has worked hard on the action, but it does not compliment her innocent face. This movie is only watchable due to the presence of Jackie Shroff, Ashutosh Rana, and Prakash Raj. On numerous occasions, you would prefer watching Jackie Shroff to Aditya.
Final Verdict
Patriotic movies have always not only touched people's hearts but also instilled them with a sense of pride. This is why these movies have frequently become box office successes. The patriotic movie stars the talents of Aditya Roy Kapur, Sanjana Sanghi, Jackie Shroff, Ashutosh Rana, and Prakash Raj. Rashtra Kavach Om has gratified the populace entirely. Jackie Shroff and action movie fans, this movie is for you. A movie worth a watch with your entire family.