The movie featuring Shahid Kapoor's sister was released with excellent feedback. The movie has been released, and Sanah Kapur has earned great praise for her performance. The movie is a romantic comedy that has gained a large audience. Read this Saroj Ka Rishta Movie Review to know more.
Cast: Kumud Mishra, Sanah Kapur, Randeep Rai, Gaurav Pandey
Director: Abhishek Saxena
Saroj Ka Rishta Movie Story
The movie's plot begins with the character Saroj Sharma. Near Delhi, he resides with her family in Ghaziabad. Within a few minutes of the movie's start, the protagonist Gaurav Pandey falls instantly in love with the female lead. However, the hero is indifferent to the physical characteristics of the girl he has fallen in love with.
In the city, Saroj lives with enormous recklessness. The entire town is concerned with Saroj's weight, yet she appears indifferent to it. She does not even consider the men who desire to marry the slim girl. She demonstrates throughout the movie that her life is comparable to that of other skinny girls and that she does not require special consideration.
This father-and-daughter pair will warm your heart. This is because the father does not care that the daughter's age or weight is increasing. He will marry her to the same boy as his daughter, Saroj. Now, Saroj has a crush on an NRI classmate. Saroj visits the NRI's gym to fall in love with him. Watching the movie will reveal what happens to Saroj and how Gaurav Pandey handles the situation.

Saroj Ka Rishta Movie Review: Direction
The movie's direction is its greatest strength—a short movie directed by Abhishek Saxena that will touch your heart. You will become attached to Saroj's persona as she responds to society with lighthearted humour in every moment. This movie will also provoke thought. Upon viewing the first scene following the intermission, you will be astonished by what transpired. The movie will keep you fastened to your seat during your theatrical visit.
Saroj Ka Rishta contains a great deal of humour and drama. This movie acted as a mirror for those who desire a petite, trim bride and for women willing to transform themselves to any degree to obtain the marriage they desire. Unfortunately, the movie's second act contains its most significant flaw. Predicting the scenario from this point on is not difficult, but you are still interested in what will occur next.
It is believed that making people smile and laugh is the most challenging thing to accomplish. Making a comedy movie that makes people laugh is difficult, but "Saroj Ka Rishta" not only succeeds in making people laugh, but it is also well-made. The movie's best aspect is that it does not show chubby girls in a humorous light.

Saroj Ka Rishta Movie Review: Acting
Sana Kapur's performance as Saroj was outstanding, carrying the entire movie on her shoulders. She plays the main character in the movie. In the role of a devoted parent, Kumud Mishra has once more reached the depths of acting. He fits the position of father perfectly. He appears to be effective at maintaining audience interest.
Supriya Pathak, Sana Kapur's actual mother, lent her voice to the movie and also played her mother in the movie. This mother and daughter will warm your heart. In their parts as boys who enter Saroj's life, Randeep Rai and Gaurav Pandey have also displayed remarkable acting. Regarding the movie's supporting cast, everyone has played their roles exceptionally well.
This movie featuring Shahid Kapoor's sister is the subject of extensive social media controversy. However, in this movie by Sana Kapur, every detail, from the romance to the comedy, is expertly woven together. In addition, the return of Kumud Mishra to the screen after a lengthy absence in this movie is a treat for his fans.
Music and Cinematography
The movie's background music is very mild. However, in numerous romantic scenes, it evokes emotion. On the other side, the movie's music is merely ordinary. There are six songs in the movie, all of which are equally romantic. Songs were composed by talented musicians such as Sonu Nigam, Armaan Malik, Rahul Jain, and others.
The movie's cinematography is excellent. As a cinematographer, Vasudeo Rane has crafted some breathtaking sequences. He took wide photos in a manner that made the scenes look amazing. The outstanding usage of music and camerawork has provided the movie with exquisite execution. The movie's dialogues also contribute to a deeper understanding of life's realities.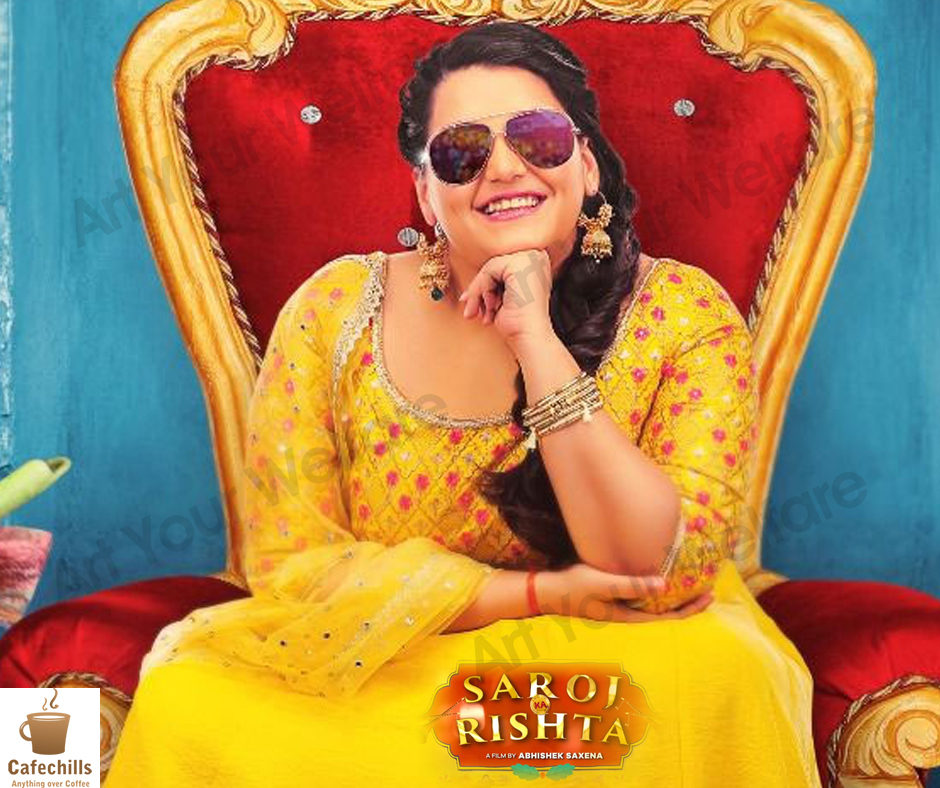 Final Verdict
In this age of mindless comedy, "Saroj Ka Rishta" is a breath of fresh air that will readily offer you the impression of easy and entertaining movies. The movie 'Saroj Ka Rishta' is apparent due to its compact screenplay, fascinating cinematography, beautiful soundtrack, precise editing, all the actors' excellent performances, and Abhishek Saxena's direction. The movie's humour and punchlines are well-written. You will undoubtedly leave the theatre with a smile on your face and a sense of accomplishment for having watched an excellent movie.
Movies with a social message have traditionally not only moved audiences emotionally but also invigorated them. The movie also attempts to infuse several moments with a feminist atmosphere. Although the movie's emphasis was on entertainment rather than its message, it nonetheless made an impression on the audience. 'Saroj Ka Rishta' would be a treat for you if you enjoy watching movies about simple, everyday life.