The golden age of South Indian movies is going on. Theatres dominate south movies to OTT platforms. Tadka is a 2022 Indian Hindi comedy-drama movie released on the Zee5 OTT platform. This is a remake of the Malayalam romantic comedy Salt N' Pepper (2011). The movie stars Nana Patekar, Ali Fazal and Taapsee Pannu in the lead roles. Read this Tadka Movie Review to know more.
Cast: Nana Patekar, Ali Fazal, Taapsee Pannu, Murali Sharma, Rajesh Sharma, Shriya Saran
Director: Prakash Raj
Tadka Movie Story
The movie's story begins with a little boy who has a special love for food. His name is Tukaram, and he is a true food lover. Now the time has passed, and he is a single middle-aged man. His friends are worried about his marriage and are always trying to find a life partner for him. But every time, he rejects the girl giving excuses that she is not a food lover. One day, his friend arranged a meeting to see a girl for marriage. Tukaram loved the food he was offered and took their chef instead of the girl.
Tukaram does not believe in a relationship that needs to be expressed in words. His father never had to tell his mother that he loved her. His father cycles 22 km every day to have lunch with his mother. Tukaram is also looking for a life partner who does not need fake expressions of love in a relationship. Then, coincidentally, a girl named Madhura makes a wrong call and turns out to be a food lover. This is a romantic story with a lot of comedy and drama.
Madhura and Tukaram started talking to each other on the phone, and luckily their thoughts were almost the same. Madhura also does not like the way things work in relationships today. They used to talk like an old couple on the phone for a long time. Now their friends forced them to meet and start a real relationship. There are many twists and turns in their first meeting. There are also many moments of joy and sadness throughout the movie.

Tadka Movie Review: Writing and Direction
Even though there are several wonderful parts in the movie, the direction is excellent. Prakash Raj is not only a good actor but also an active director. The director, Prakash Raj, does a good job of keeping the focus on the story and the characters while still managing to create an engaging and entertaining movie. The movie is very skilfully edited, which contributes to the movie's smooth flow.
The punch lines and dialogues were strong in the movie. The dialogue and scenes of the movie are written in such a way that mature people will like them. The script and screenplay of Tadka are also excellent. It is engaging and entertaining and keeps the audience hooked throughout the movie. The dialogues are witty, making the movie enjoyable to watch. The plot is captivating and the characters are well-developed. The movie is both well-directed and well-written.
Tadka Movie Cast and Acting
Tadka Movie Review would only be complete by mentioning the cast. The movie's cast is stellar and features some of the biggest names in Bollywood. The main cast of Tadka includes Nana Patekar, Ali Fazal, and Taapsee Pannu in the lead roles. Nana Patekar is convincing as the middle-aged chef head-over-heels in love with food.
The cast also includes Murali Sharma, Rajesh Sharma, and Shriya Saran. Rajesh Sharma plays Nana Patekar's cook in the movie, and Murali Sharma plays his friend. The cast of Tadka is simply amazing, and the chemistry between the actors is great. The acting by the cast is commendable.
Nana Patekar plays the role of a middle-aged man named Tukaram, who loves being a food lover. He cooks up a storm with his cooking skills and mindfully eats them. He plays the role of a character who does not believe in a relationship that needs to be expressed in words. Shriya Saran's character is charming in the movie. Ali Fazal does well in the supporting role of Nana Patekar's nephew.

Music and Cinematography
Tadka's cinematography is nothing short of extraordinary. The movie's cinematographer, Preetha Jayaraman, is known for his visually arresting movies, and Tadka is no exception. The movie's first shot is a stunning aerial shot of the city of Goa. Each shot in Tadka is beautifully crafted. Every frame is bathed in a warm, golden light, giving the movie an almost otherworldly feel. This attention to detail makes a visually stunning movie that captivates the audience.
The music of the Tadka movie is composed by Anoop Rubens and is quite good. The movie has some fast-paced scenes as well as some slow ones. All the scenes have good background music with the flow of the movie. There are no songs in the movie.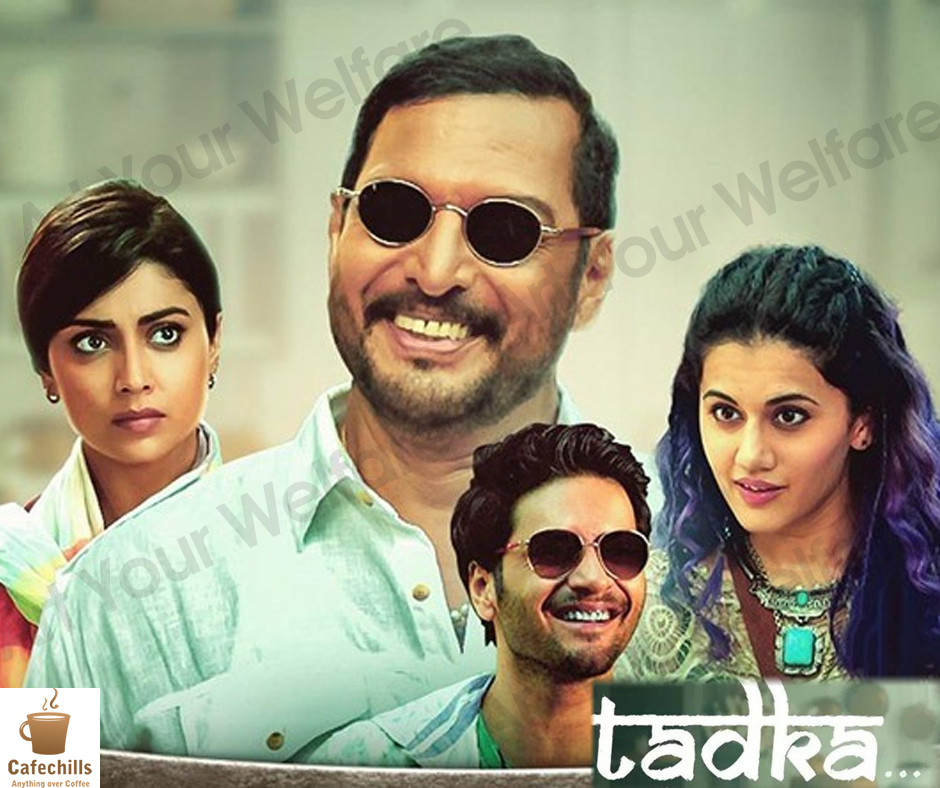 Final Verdict
Tadka is a remake of the Malayalam movie Salt N Pepper, released in 2011 and a box office hit. The movie is a light-hearted entertainer with some great performances by the lead actors. Tadka is a heartwarming movie that will leave viewers with an abundance of emotions. It is an inspiring story about food lovers with a romantic twist. The movie is filled with touching moments, laughter, and tears.
Tadka is a Hindi-language comedy-drama movie directed and produced by Prakash Raj. The writing and direction of Tadka are both top-notch. The movie is extremely funny and entertaining, with great performances from its cast. It is a must-watch movie for anyone who loves to see Nana Patekar's performance on screen. Except for a few scenes, the movie will not bore you anywhere if you are looking for a good romantic/comedy-drama movie.