One of the most awaited movies of Bollywood, 'Uunchai,' has been released in theatres. It is an adventure drama movie in which the friendship of four older adults is seen. Adventure movies have been successful in Bollywood for the past few years. Uunchai Movie Release Date is November 11, 2022. Now read this Uunchai Movie Review to know how much it meets the critics' standards.
Cast: Amitabh Bachchan, Anupam Kher, Boman Irani, Danny Denzongpa, Sarika, Neena Gupta, Parineeti Chopra
Director: Sooraj Barjatya
Uunchai Movie Story
Amit Srivastava, Om Sharma, Javed Siddiqui, and Bhupen are best friends who are in their 60s. Among them, Amit is a well-known writer, Om Sharma is a bookstore owner, and Javed is a clothing store owner. Bhupen is originally from Nepal whose dream is to go trekking. He wants to climb Everest Base Camp with his friends. On his birthday, Bhupen expresses this wish to the other three and unfortunately dies the next morning. After Bhupen's death, Amit finds the tickets Bhupen had booked for his four friends for the trek to Everest Base Camp.
Seeing this, Amit decides to fulfil Bhupen's last wish and climb Everest Base Camp with two other friends as his friend Bhupen had this wish since he was a child to climb Mount Everest with his three friends. Of course, at first, Om and Javed oppose it, but eventually, they embark on a very difficult journey for the love of their friend. So, these three remaining friends fulfil this dream and decide to go to Everest in the bitter cold despite their old age. At the same time, these three friends have to immerse in the ashes of their dead friend on Everest.
Javed's wife, Shabina, is initially unaware of this trek, and when she finds out, she also opposes it. Javed manages to convince her later. Apart from climbing Everest, these three face many other problems that completely change their outlook on life. In this difficult journey, the three friends come across another senior woman passenger named Mala Trivedi. Why does Mala join them? Are the three friends successful in their journey forms the crux of the movie. Parineeti Chopra as the Trek Instructor comes as a surprise in the movie.

Writing and Direction
The movie Uunchai was written by Abhishek Dixit and directed by Sooraj Barjatya. Sooraj Barjatya is an exceptional director who knows how to touch the audience's hearts and has proven it once again. The movie is a roller coaster ride of love, emotions, life, and friendship. On one hand, the light-hearted and humorous dialogues between friends bring a smile to your face. On the other hand, the emotional and meaningful dialogues that discuss family relationships bring tears to your eyes.
There are some drawbacks. The main shortcoming of the movie is its length. The 2 hours 50-minute screenplay moves very slowly for the first hour. But the biggest shortcoming is that the writer and director need to show how the friendship of the four friends is so strong. When the movie starts, they seem to be casual friends, and Bhupen dies soon after. Unfortunately, everything happens so fast that their friendship does not blossom. The story of friends sacrificing their lives for Bhupen does not touch the heart as much as it could.
Uunchai Movie Review: Acting
Uunchai Movie Cast is excellent and features some of the biggest names in Bollywood. Amitabh Bachchan, Anupam Kher, Boman Irani, Danny Denzongpa, Sarika, Neena Gupta, and Parineeti Chopra are famous actors from the Bollywood film industry seen together in the movie Uunchai. All of them have given their best performance in their characters. This movie will be seen as very important in everyone's acting career.
Regarding the performance, Amitabh Bachchan is in excellent form and delivers an entertaining performance. Boman Irani's character is charming in the movie. Anupam Kher has done a justice to his character. The movie is praised for the casting of actors Amitabh Bachchan, Boman Irani and Anupam Kher. Neena Gupta's marital bonding with Boman Irani looks very real and sweet. Parineeti has also done a great job as a trek instructor.

Uunchai Movie Songs and Cinematography
Along with writing and directing, Amit Trivedi's music is also the movie's highlight. Especially in the emotional scenes, the songs in the movie give a pleasant sensation to the ears. 'Keti Ko' and 'Haan Kar De' are two songs that fit very well in the movie. All the lyrics written by lyricist Irshad Kamil are meaningful and fit the story and its characters. The background music of the movie is very simple.
Manoj Kumar Khatoi's cinematography is excellent. The movie looks stunning on a large screen, particularly the trekking scenes. The movie's images of Everest are amazing. Likewise, the post-production work was of the best standard. In terms of editing, a great deal of work has has been done in the  movie.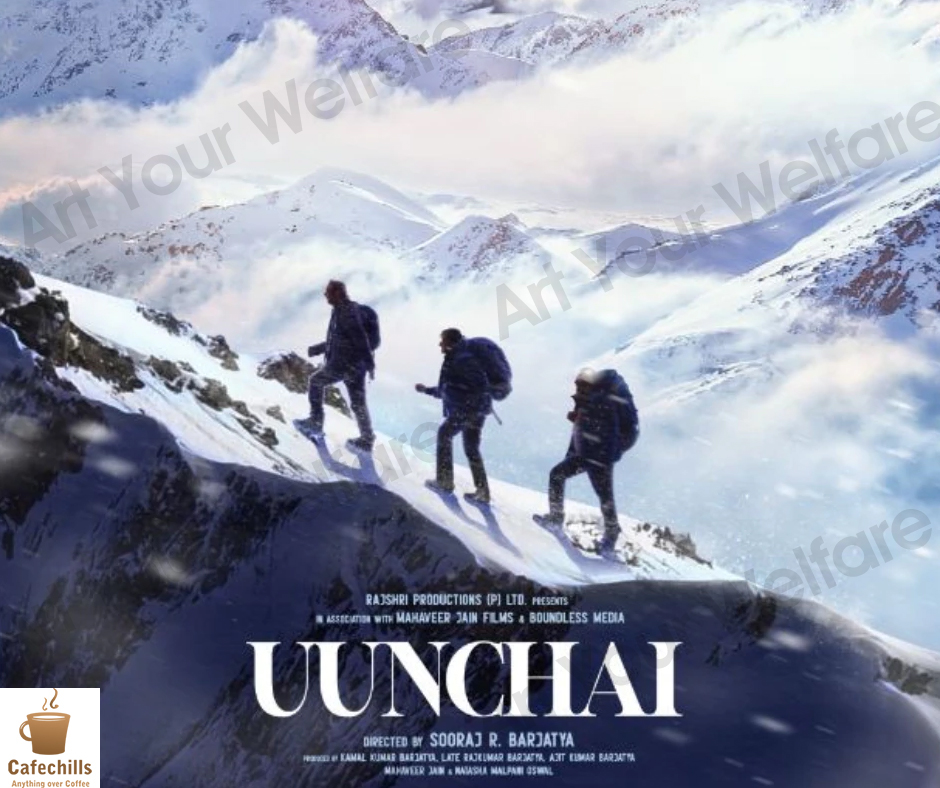 Uunchai Movie Review: Final Verdict
A special screening was held before the release of the movie Uunchai, in which there were many actors associated with the Bollywood film industry. All the actors showered their love on the movie after watching it and told how they felt after watching this movie. Every viewer who enters the theatre will surely go home with the satisfaction of seeing something significant after a long time.
Uunchai is a Hindi-language adventure drama movie produced by Rajshri Productions. The writing and direction of Uunchai are both top-notch. The movie is extremely funny and entertaining, with great performances from its cast. It is a must-see movie for anyone who loves seeing Amitabh Bachchan, Anupam Kher, and Boman Irani on screen. Along with entertainment, this movie also gives a message.