Director: Shashanka Ghosh
Cast: Kareena Kapoor Khan, Sonam Kapoor Ahuja, Swara Bhasker, Shikha Talsania, Sumeet Vyas.
Veere Di Wedding is about 4 girls who call themselves Veeres (Brothers) – Kalindi Puri (Kareena Kapoor Khan), Avni Sharma (Sonam Kapoor Ahuja), Sakshi Soni (Swara Bhasker) and Meera Sood (Shikha Talsania).
These girls are besties since school and later they are busy in the own lives and stay in different parts of the world. Though far apart but there are always together as they were before.
Rishabh (Sumeet Vyas) is the guy whom Kalindi loves. After 3 years of being together, Rishabh thinks this is the right time and proposes Kalindi. Kalindi is confused but says yes as she loves Rishabh a lot.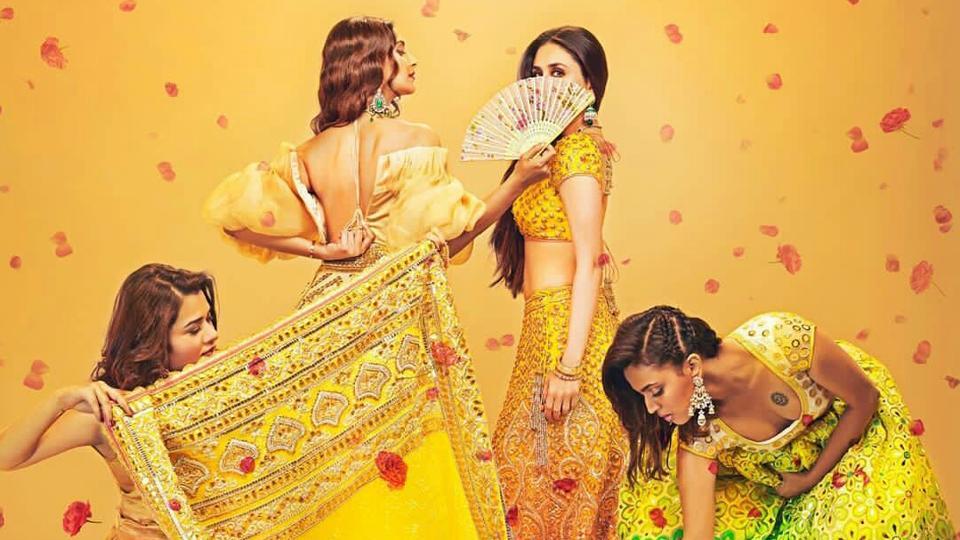 Siyappa starts from here in the movie. Kalindi invites her veeres for the wedding. Wedding preparations start and Kalindi realizes that this family drama and all is not what she wants.
Meanwhile, all the other girls tell their side of story. Sakshi is a rich spoilt brat who marries very early in her life and later realizes she doesn't know the person well whom she married. She now wants a divorce but there are many problems. Meera is mother who doesn't like to keep her kid alone in a room and she is not connected to her family as she married a foreigner. Avni is a divorce lawyer who desperately wants to get married especially after seeing her ex-boyfriend well settled and married with kids.
The rest of the movie revolves around Kalindi – her wedding and her friends. Kalindi and her friends tackle societal perceptions and break all stereotypes.

This is the first time – a movie with female friendship is seen. Female oriented scripts now are taking the lead in Bollywood.
Tareefan – the best song went missing from the film. Laaj Sharam and Veere are played well according to the situation. Bhangra Ta Sajda – an awesome song played at the end of the movie. Aa Jao Na – a romantic song – really lovable.
Kareena Kapoor Khan – the hottest of them all. She is the best performer. Her grace and her ease in acting has proved it. Sonam Kapoor Ahuja gets into her character well. Swara Bhaskar rules the pack either with her lines or her sexy outfits. She is good at dialog delivery and can handle emotions well. Shikha Talsania is the talent to look out for. She is effortless and has a good chunk of screen presence. She has delivered a very good performance. Sumeet Vyas is hilarious and has done his part well.
Siyappa's do entertain and keep you glued to your seat. Entertaining movie – you shouldn't miss this one! An unforgettable movie with best performances and cast.